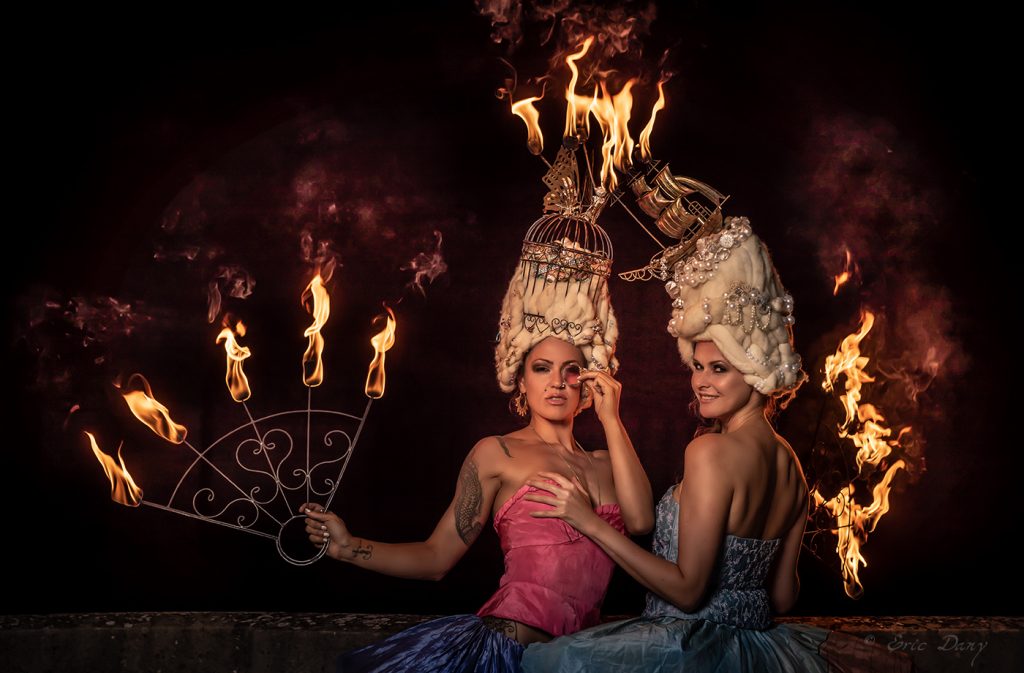 Trianon est une la toute nouvelle création de l'année 2018 :
La célèbre Archiduchesse qui trônait aux cotés de Louis XVI avait bien des secrets. Elle passait beaucoup de bon temps avec les dames de la cour, et ces coquines avaient un gout particulier pour les animations – voir même – un vrai sens de la fête !
Méfiez- vous !
On tombe facilement sous le charme de ces pécheresses, parfois au point de perdre la tête…
Laissez-vous entraîner dans l'univers revisité de Marie-Antoinette, par les danseuses de feu et manipulatrices d'objets magiques de la compagnie Hanabi Circus .
Trianon est un spectacle disponible en plusieurs parties :
déambulation échasses et sol en FEU
chorégraphie d'éventails de feu
numéro burlesque humoristique , danse et chorégraphie de manipulation d'objets holographiques
Il est adapté à divers types de manifestations festives et cabarets mais peut aussi se marier parfaitement à des soirées d'entreprises dans sa version plus habillée et très chic:  inaugurations, cocktails, soirées de lancement, prestiges, séminaires…
Photos : Eric Dany, JF Schneider
Trianon is a brand new creation for 2018: The famous Archduchess who sat next to Louis XVI had many secrets. She spent a lot of time with the ladies of the court, and these rascals had a particular taste for entertainment – even – a real sense of fun!
Beware!
It is easy to fall under the spell of these sinners, sometimes to the point of losing your head…
Let yourself be carried away into the revisited world of Marie-Antoinette, by the fire dancers and manipulators of magical objects of the Hanabi Circus company.
Trianon is a show available in several parts:
*stilt walk and FIRE floor
*choreography of fire fans
*humorous burlesque act, dance and choreography of holographic objects manipulation
It is adapted to various types of festive events and cabarets but can also be perfectly suited to corporate events in its more dressed up and very chic version: inaugurations, cocktail parties, launch parties, prestige events, seminars…