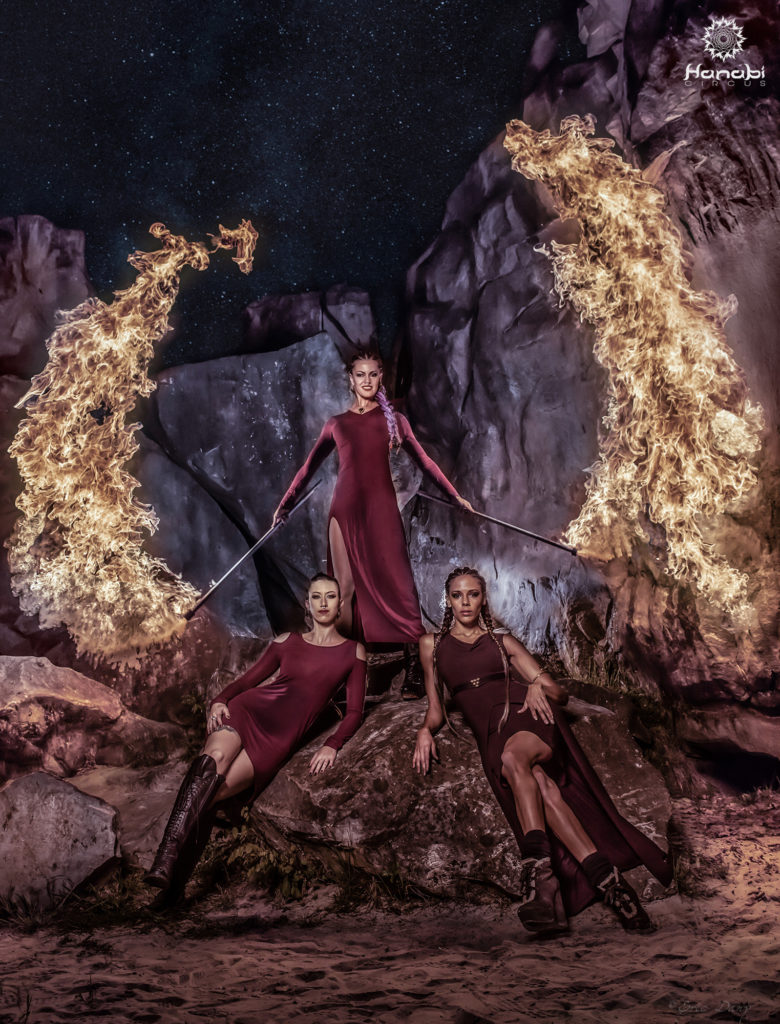 Fondée en 2009, Hanabi Circus est une compagnie de spectacle vivant composée de danseuses circassiennes qui allient leur passion aux arts de la rue et du cirque pour vous proposer des performances aux notes fantasmagoriques
Dans une exploitation gracieuse de l'espace, Hanabi Circus manipule le feu et la lumière et vous font découvrir les éléments d'un monde inspiré de diverses cultures musicales et artistiques. Le temps d'un voyage, laissez vous guider par ces créatures aux costumes virtuels et décalés qui vous révèlent les mystères d'un imaginaire débordant de leurs rêves, mais aussi de nos cauchemars.
De cette immersion va naître un nouveau dialogue avec la lumière. Bienvenue dans l'univers insolite d'Hanabi Circus.
De part le très large éventail de ses créations, Hanabi scinde ses activités en 2 parties en 2020:
HANABI CIRCUS propose des spectacles clés en main tout publics en Salles et en Rue
HANABI'S NIGHT & The Catbaret proposent des animations pour les plus grands en Cabaret, Clubbing et Festivals
Picture: Eric Dany & Frederique Sanzey
Born in 2009, Hanabi Circus on stage is a live performance company made of dancers/ jugglers allying their passion and circus arts to propose unique performances with a phantasmagorical touch.
Gracefully, Hanabi Circus manipulates fire and lights and makes you discover the elements of a world inspired by diverse musical and artistic cultures. The time of a journey, follow those creatures dressed with virtual and unconventional costumes that reveal you the mysteries of a fantasy world overflowing with their dreams, but also with our nightmares.
From this immersion will appear a new dialogue between ou creatures and lights.
From 2020, we split our activities in two parts:
HANABI CIRCUS for all the family ( street shows and indoor)
HANABI'S NIGHT for Festival, Cabaret and Clubbing entertainment
Welcome in the strange and unique universe of Hanabi Circus.